Expat Adviser Nominated As Top 50 Influential Adviser in Australia – Atlas Wealth Management is proud to announce that our Managing Director for the EMEA region Brett Evans has been selected for the 2020 Financial Standard FS Power 50 list recognising the 50 most influential financials advisers in Australia.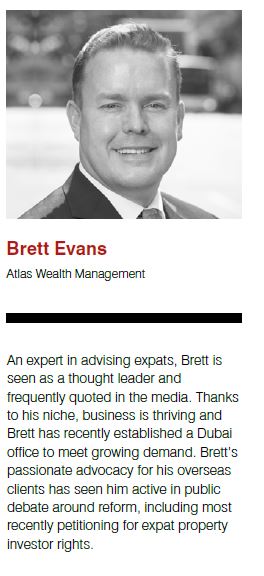 This year's list was decided by a combination of the 6,000 votes received and extensive due diligence conducted by the Financial Standard editorial team. The list was also screened by the Association of Financial Advisers and the Financial Planning Association of Australia prior to publishing.
"I have always been very proud of the services that we provide to Australian expats and it is nice to be recognised for the advocate role we play for when working with Australians living and working overseas" said Brett.
Brett has been nominated in the top 50 list every year since the list was first established in 2013 and has prided himself on the contribution he and the team at Atlas have been able to make to not only the industry but in also educating and providing financial advice to Australian expats the world over.
To review the full list click here.
About Atlas Wealth Management
Atlas Wealth Management is the leading provider of Australian expat financial advice. With clients in over 30 countries we are the only Australian financial services firm that specialises in providing Australian expat financial planning and wealth management advice to Australian expats.
It doesn't matter whether you are based in New York, Hong Kong, Dubai or London we have the skills and expertise in ensuring that the advice that you receive is tailored to you.